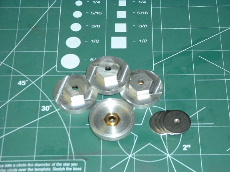 part# 902 17mm OFNA MONSTER PIRATE WHEEL ADAPTERS

These adapters mount Monster Pirate wheels to the Clodbuster. Clodbuster brass hub hex is required. includes 4 stainless wheel retaining washers. (note) overall truck width with Monster Pirate rims is 16.5". $39.00
TAMIYA PAJERO BEADLOCK RIMS
part# 903 NON-FUNCTIONAL BEADLOCK RIMS.

These 6061 aluminum rims are a direct fit to the pajero. they are available in a powder coated gloss black finish for $110.00. or a polished uncoated finish for 90.00. prices are for a set of 4 rims.








MONSTER TRUCK ALUMINUM SUSPENSION LINKS
1/4" aluminum suspension links are available in any length.
$4.50 ea.